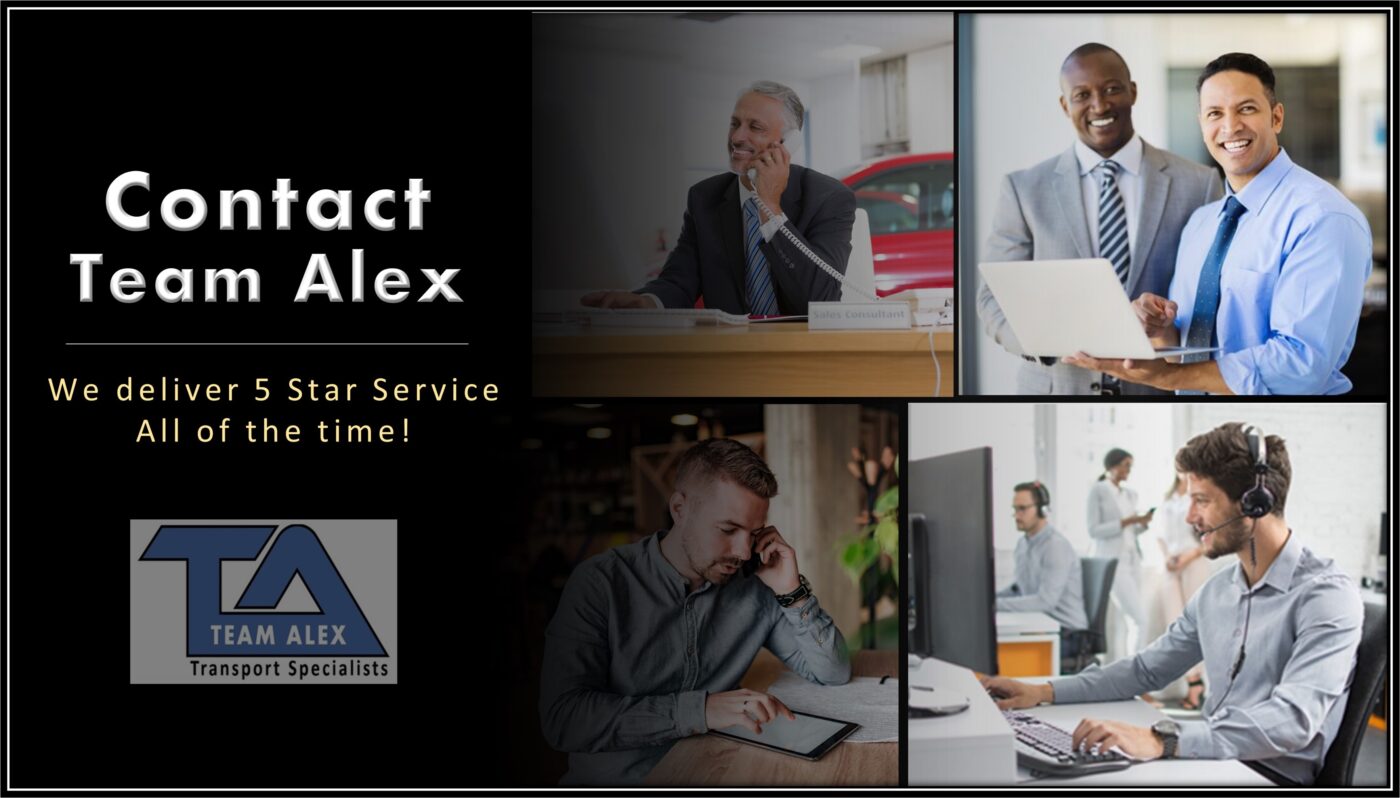 Tom Mars
As a former EVP of the world's largest company, I know outstanding service when I see it. I rarely write reviews, but I wanted to tell others who are looking for a five-star transporter that Alex Lopez is the guy to call.
Flawless execution from beginning to end with a "we'll get it done" attitude. Incredibly impressive. I'll never use anyone else but Team Alex to deliver a new car from an out of state dealership. You shouldn't either.
Ross Gale
"Highly recommended— with an almost annoying level of responsiveness (seriously, they always answer email text and phone within a minute), high standards for carriers, and competitive rates, Team Alex is the best!"
Moses Kaijuka
Passport INFINITI of Alexandria
,
Team Alex is by far the most reliable transportation company we've dealt with. Great communication, reasonable costs, and quick delivery. We have been dealing with them for about a year now and haven't had any hiccups so far.
Mo Diab
Mercedes-Benz of Houston Greenway
,
Hands down one of the best in the business! Going on 5yrs with Team Alex and still plenty more!
Michael Lasko
Bill Vince's Bridgewater Acura
,
I can honestly say, In 19 years selling sports and exotic cars I find you guys to be the best I've dealt with!
Larry Williams
BMW Northwest
,
Team Alex has been nothing, but professional, reliable, consistent and customer friendly to me and my clients. I have used other transport companies over the years but none that is as impressive as Team Alex. When I refer colleagues and my customers, I literally have no worries about my reputation being adversely affected. It is quite the opposite! Team Alex is the only transport company I will use and refer.
Jim Bloom
Mercedes-Benz of Naperville
,
Team-Alex Lopez is fantastic! I work at Mercedes-Benz of Naperville in Illinois and we use them all of the time. Their team is responsive to me and follows up to make sure our vehicles are delivered on time anywhere in the country.
Esther Shamouel
Infiniti of Roseville
,
TEAM ALEX!!!!! That is all you need to know for your shipping needs. When quality care, time, money, and client satisfaction is on the line, no one does it like Team Alex. They are even responsive within 20 min on a Sunday evening. (Which I would never expect but appreciate).
They have taken great care of me and my clients consistently and I would not consider trusting anyone else for the job. They have made it so easy, that I even have an instant idea of what the freight cost will be through the QQLink page. Team Alex all the way.
Eduardo Huerta
Mercedes-Benz of Houston North
,
You guys are my go-to-guys for any transportation needs. I have used other companies in the post and Team Alex is the only name I ever remember. Great Job!
Colleen Morgey
Holman Cadillac
,
Your company is awesome to work with which is very unusual at this time. We really appreciate you!
Chris Atkins
Ed Morse Sawgrass Auto Mall
,
Alex Lopez & his team, from Ship Your car Now definitely goes above and beyond and delivers OUTSTANDING service!! When looking for a transporter, Team Alex are the ONLY people you will need!! The best I have ever seen as far as providing great service!
Casper Yim
Keeler Motor Car Company
,
I've always counted on team Alex, ship your car now for my auto transport needs. This has been my second time using them and they are extremely transparent and easy to work with. I highly recommend them for any dealership transport needs, as they have been very helpful!
Brent Gorski
Nyles Auto Group
,
We ONLY use Team Alex for our shipping needs - for both dealer trades and customer deliveries. Alex and his team are always there for us, on top of everything, and has our back with every transport. We couldn't do it without Team Alex and their support.
Bob P
I asked my salesman who I could use for shipping my new car to me across the country. He handed me your card.
When I asked for other names to get other quotes, he said this was the only name I would need because it's who their dealership trusts.
Bart Broda
Mercedes-Benz of Westmont
,
Team Alex is unbelievable. Always on top of everything. Great service and easy to work with! Definitely recommend them!
Anthony Burruano
Treasure Coast Lexus
,
Alex and his team is unlike any transportation company I have ever worked with. He and his team always go above and beyond for us here at Treasure Coast Lexus. Team Alex is better than Google with their updates and timelines, flawless. I will always use Team Alex and will recommend them to anyone looking to transport a vehicle!!!!